Yes- YES – YES!!! *Warning. The use of the term 'bloody' appears a lot in the following text. So do the words " Vegan Waffle"
Today is the day. The day I have finally been waiting for. I have been mentioning this perhaps once a day, since valentines day- Go on then girl spit it out!
It's only bloody waffle day. Depending on where you are in the world, you'll have waffle day on random days but luckily the Americans have added the 24th of August as waffle day too and I, for one, am not about to complain.
For those of you who don't know. My Mr bought me a waffle maker for valentines day, true love for you, skip the flowers and the chocolates. Buy me some protein powder, new sketchers and a bloody waffle maker. After that week I was on a rampage to find the best vegan waffle batter I could and I really struggled. The amount of bananas and oats I got through on week one alone was insane. And then…
Pancake day popped its head around the corner – Yes!  Finally a day I could display my new, recipes I had sneakily added a waffle recipe in amongst the pancake day post and no one was any the wiser.
But today. Today is waffle day so I can show off! I have treated myself put myself through the pain of making 20+ waffles to find the fluffiest. Sweetest and tastiest waffles out there. Don't worry if you're Vegan, Gluten-Free, Paleo or whatever the heck you are. I have you covered – I've included several options for you to choose from!
The best until last – Of course.
The Simple Banana Waffle [Gluten-Free]
The Simple Sarah [Vegan]
The Easy one Protein Waffle [Gluten-Free & Vegan]
Of course you don't have to use vanilla but It's what I had at the time, this recipe is a lot simpler than my other protein recipes but they're a bit denser and less spongy. I'd say more like American waffles that you toast.
Calories: 169 per serving Carbs– 7.7g Fat– 2.6g Protein– 24.8g
That's a crazy amount of protein for carbs but to get them that way you have to batch make them. For the recipe, you'll need to head over here.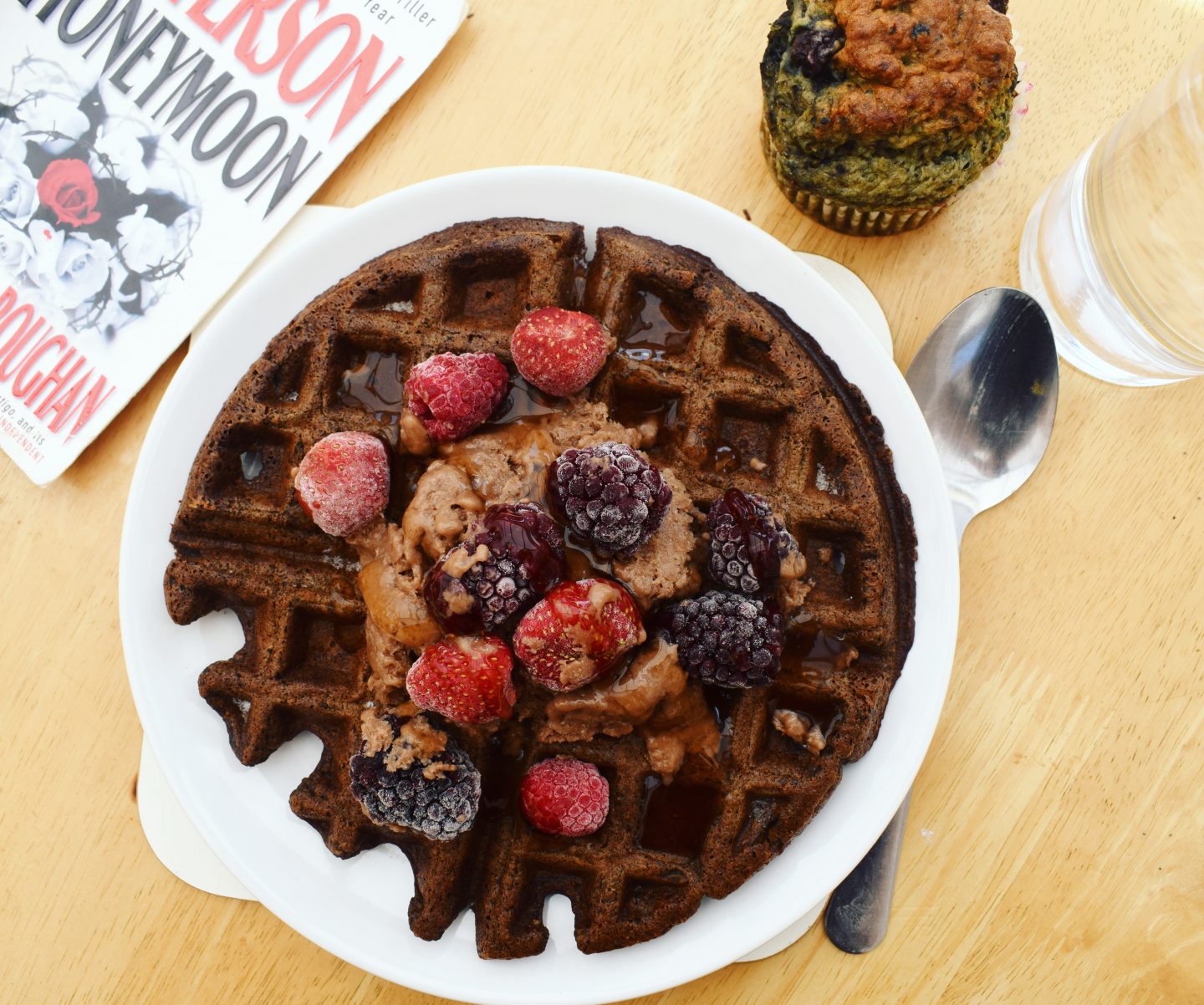 THE ULTIMATE VEGAN WAFFLE [Gluten-Free & Vegan]
Courtesy of me myself & I. I'm definitely tooting my own horn with this one because we all have our own types but this one is really soft and spongey (which is my preference).
I have just found zero calorie maple syrup from Bulkpowders and am going crazy for the stuff, really embarrassed I haven't gotten into a full review of the company that makes it but I will. I promise I'll get round to it but I've got a lot in the works over the next few weeks.
Like this post? Share it – Pin it!