This is a bit of a silly post but I felt too many of these memes summed up my average day of your Intermittent Fast and hope they will relate to you too! And..If you don't know the ' intermittent fast ' then you will know now – also, where have you been for the start of 2017?
Intermittent fasting is scheduling in hours of the day where you don't eat or drink anything other than water. Typically lasting 16 hours but it's not all bad, most of that time is spent sleeping or is at night.
If you want to know more about the benefits of doing an Intermittent fast I have tonnes of information on the site for you but the quick and short of it is – It reduces your caloric intake and helps you to lose weight.
11 memes you'll understand if you Intermittent fast
(1) You've tried every diet on the books and you're giving up on ever being healthy and losing weight…
(2) but you hear of this new schedule to eat a 'normal' diet.
(3) Intermittent fasting can feel like the holy-grail of weight loss when you first start because FOOD. All of the food.
Well…from 11am-7pm it's an open door. You can stuff your face in your 'eating' window and still lose weight..
(4) But, Sometimes Intermittent fasting means you're Hungry – Like a lot of hungry.
(5) And you can't decide if losing weight and boosting your metabolism it's worth the extra 1 hour of waiting for breakfast….
(6) You still have an hour before your fast ends…
(7) But then the clock ticks it's Break-fast!!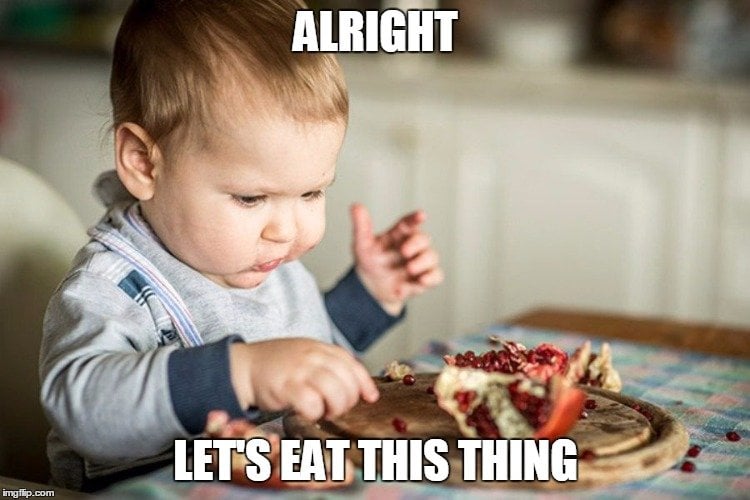 (8) And you realise that now you're eating your meals in a small time frame you have all of the time in the world…
(9) But you make up for it by preparing a massive buffet and you can have it all!
(10) You suddenly have all of the energy in the world.
(11) And you're looking amazing for it too
(12) When you try and explain your 'diet' to others…
(13) Trying to explain to people how you can get away with eating so much food…
–
I hope this helps inspire you to start Intermittent fasting or makes you laugh if you're done IF before. Even better if you're sat at the computer watching the clock and waiting for your first meal of the day, I hope this reminds you that it's all worth it. Because after all…
and I know that Intermittent fasting works. It depends solely on you, it's the most relaxed method of 'dieting' as there are no rules other than 'eat in the clock'. You pick your times, pick your food and be disciplined. If you want more information on Intermittent Fasting then read my guide or follow my blog in the side bar for new updates weekly!